Acom 1010 Amplifier Linear for HF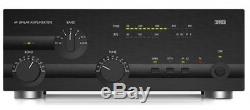 Acom 1010 Amplifier Linear for HF. The description of this item has been automatically translated. ACOM 1010 HF linear amplifier. Prices, images and descriptions are approximate. Specifications are subject to change during construction of the supplier.
The ACOM1010, the latest new product is a linear amplifier cheap, small and light, covering from 160 to 10 meters, for stationary use, to DXpedition operations in Field Dy. Ease < class = "notranslate" > of use.  < class = "notranslate" > The plate-loading indicator True Resistance Indicator (TRI) is an innovation ACOM which allows fast and precise agreement, typically in less than 10 seconds. No external antenna acstringtore  < class = "notranslate" > is required at least until the antenna has a VSWR of less than or equal to 3:1. The amplifier carries out the functions of a acstringtore of antenna, allowing you to quickly change antenna and using a broad spectrum of frequencies.
This amplifier is xxiiiâ user-friendly  < class = "notranslate" > and monitoring functions. It is designed to withstand without damage up to 240 W of reflected power, up to 100 milliseconds to overload RF "tails" after releasing the PTT or button (KEY), and also operator agreement errors. It is capable of operating with more than half < class = "notranslate" > of its nominal output power with just 75% of rated mains value.
Because it can tolerate gaps (up to scratch for 10 milliseconds) and 15% surge in net, is particularly suitable for use in portable generators, particularly for field days and DXpeditions.  LED light bar  < class = "notranslate" > top always detects the power peak incident while the lower one is to read the reflected power. LED indicators alert you in case of abnormal operating conditions for the grid 2 grid 1,, and parameters of plaque. Two antenna outputs  < class = "notranslate" > are selectable from the front panel of the amplifier. The antenna arrangement  < class = "notranslate" > can be achieved in less than 10 seconds and one-fourth of the nominal output power, in order to reduce the risk of interference with other stations and the security risks of the components in the amplifier itself. The amplifier requires no special interface to operate with your transceiver, it only needs the signal ground on TX and 60 W RF input power to dispense the full output power.
The circuit agree incoming broadband  < class = "notranslate" >
has excellent characteristic of load for the transceiver that pilot, from < class = notranslate' > 1.8 MHz to 30MHz. A sola tube Svetlana 4CX800A  < class = "notranslate" > (GU74B), high-performance ceramic-metal tetrode with plate dissipation of 600W (forced air cooling, piloted in grid), is used for maximum efficiency. The Acom 1010 offers a continuous monitoring and circuit breakers for currents of plaque and grid lines. Polarization optimization circuit minimizes the heat dissipation in the tube, ensuring a long life. The design criteria used for Stadium high voltage power supply ensure the Elimination of the dangerous transient to ignition, avoiding repercussions over other powered devices from the network. In addition the amplifier can be configured for any of the 8 possible mains voltages, between 100 and 240 V, 50 or 60 Hz. The amplifier can be supplied with the bands of 10 and 12 meters disabled as required by the FCC, for users in the United States. Check with your dealer to enable those bands.
Frequency coverage: all amateur bands in the range < class = notranslate' >
1.8 < class = notranslate' > -29.7 MHz. Output power: 500 W 700 W PEP or continuous carrier.
Intermodulation products: better than-35 dB below rated output. Power frequency hum and noise: better than-40 dB below rated output. Harmonic output Suppression: better than 50 dB below rated output. Input circuit: broadband, VSWR less than < class = notranslate' > 1.3:1, across the range < class = notranslate' > 1.8 -30MHz (does not require keeping talking switchings).
Bypass path VSWR less than < class = notranslate' > 1.1:1, across the range < class = notranslate' > 1.8 -30MHz, 200 W maximum. Capacity < class = "notranslate" > agree output impedance (antenna): VSWR up to 3:1 or more. RF gain: 11dB typical frequency response less than 1dB (from 50 to 70 watts of power for the maximum output). Requirements for electricity supply: 85-132 V/170-264 V ac (100, 110, 120, 200, 210, 220, 230 and 240 V nominal), +10% -15% tol. , 50-60 Hz, single-phase, 1200 VA.
CE safety requirements and compatibility < class = "notranslate" > electromagnetic as FCC (10 bands & 12 m locked). Weight & dimensions: Wxdxh: 406x315x150mm, 16 kg. Altitude: up to 3000 m above sea level without Derating of output power. The 4-star feedback, it is considered very bad service. Then Ristringti to rate us with 5 stars for each of the parameters of the detailed assessment.
This is important to us, is essential. ANY feedback is a gratification of our work. We are sure that we can accommodate you! Listing created with DropSheep Professional. The item "Acom 1010 Amplifier Linear for HF" is in sale since Tuesday, February 27, 2018.
This item is in the category "Mobile Phones & Communication\Radio Communication Equipment\Ham/Amateur Radio\Ham Radio Amplifiers". The seller is "smtechnology-it" and is located in Magazzino Fornitore. This item can be shipped worldwide.
MPN: Does Not Apply
Brand: ACOM
EAN: Does not apply