GS-31B Tube 1.5kW New in Box! (hf, vhf, qro, pa, power, amp)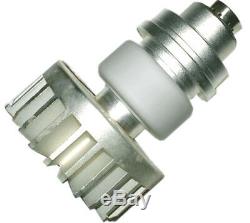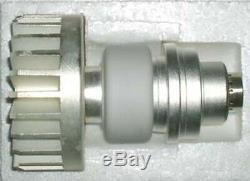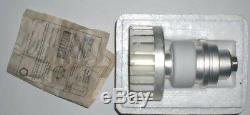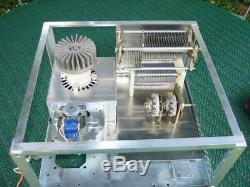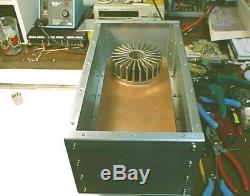 GS-31B 1,5kW Power Tube. With 3,5kV on plate >2.0 kW can be expected on 144MHz in a grounded grid amplifier! Intermodulation distortion of the 3rd order - minus 32 dB. Anode Dissipation - 1.5 kW.
Grid Dissipation - 22 W. Cathode- Oxide coated Heater voltage - 12,6V. Heater current - 3.4A.
Maximum CW Anode voltage - 3.0 kV. Maximum Instantaneous value Anode voltage- 6.0 kV. Maximum CW Cathode current- 1.4 A. Cathode pulse current- 8.0 A.
Transconductance at Ua= 2.0 kV Ia = 350 mA --> 22.5 mA/V. Capacitance Input /Output /Feed-through -19 pF /3.8 pF/0.12 pF-Max. Seal and Envelope Temperature - 250 C max. Anode Temperature - 200 C max. Cathode Connector Temperature - 120 C max.
Maximum Length -147,0mm Maximum Diameter -100,2mm. Weight with heat sink: 1.2 kgs. The so called "Specification Sheet" for the GS-31B/GS-35B was provided for the tubes as they were produced in the Soyus Union-engl. Factory for the Russian military and select civil aviation customers.
These tubes were produced primarily for use in UHF RADAR applications. The factory was manufacturing the tube in such a manner as to guarantee their performance under the specified conditions. Use of this tube in the spectrum occupied by the amateur bands 160 meters through 70 centimeters was never specified nor measured. You can also exceed the rated anode voltage specification of 3,000 volts to as much as 4,500 volts. The majority of users are operating their amps with anode voltages between 2,500 and 3,000 Volts.
They make a mistake and the grid current overload. It is better use the maximize anode voltage. Caution should also be exercised when operating the tube with filament voltages that may go below the nominal 12.6 volts. If your line voltage drops enough to cause your filament voltage to go below this level, you should adjust the filament voltage so that it will stay at or slightly above 12.6 volts under all conditions. Low filament voltage not only contributes to rapid tube failure, it will also cause your tube to have low output.
Some users claim to run the filament voltage as high as 14 volts. Unlike directly heated cathode tubes, significant loss of the oxide coating on the indirectly heated cathode can occur with low filament voltages. High filament voltage can significantly shorten the life of the tube. You may shorten the life of the tube slightly by raising the filament voltage but not nearly as much as you will shorten it running low voltage.
Always provide for a method to test and adjust your filament voltage. It is Sale for 1pc (One) Brand New GS-31B 1,5kW Tube. The item "GS-31B Tube 1.5kW New in Box! (hf, vhf, qro, pa, power, amp)" is in sale since Wednesday, August 15, 2018.
This item is in the category "Consumer Electronics\Radio Communication\Parts & Accessories\Tubes". The seller is "qro-stuff" and is located in Europe. This item can be shipped worldwide.
Maximum Output Power: 3 kW
Frequency range: HF-VHF-UHF
Model: GS-31B
Country/Region of Manufacture: Russian Federation
Band: HF-VHF-UHF
MPN: Does Not Apply
Brand: Unbranded/Generic