HF power amplifier 1200W LDMOS BLF188XR 1.8-54MHz with LPF and protector units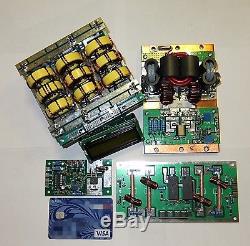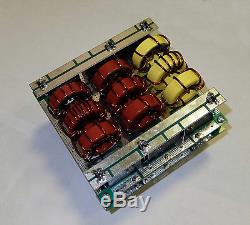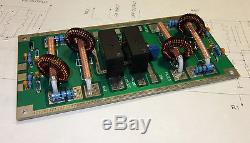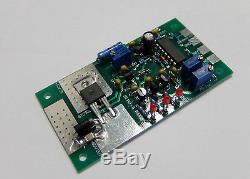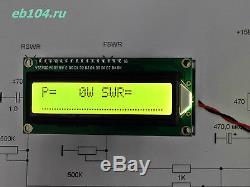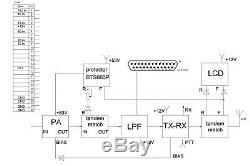 W LDMOS power amplifier assembled and tested to operate on 1.8 - 54 MHz. Ith copper plate 10 mm. Board consists of two parts, input and output and. The board is double sided FR4 with 50 um copper layers.
All components are installed with the LDMOS device, which is soldered to copper for best performance. The amplifier is mounted on a copper plate 150x100x10 mm. A temperature regulated bias circuit and a high power low loss wide band transmission line type transformers are used in this device. We recommend to use the power supply FlatPack2 53.7 VDC 2000W. Smart High Current DC Switch with protection triggers for power amplifiers.
The application of this DC switch is to gate the power supply current to solid-state amplifier and safely disconnect it in case of emergency. Diagnostic feedback with load current sense. Operating voltage 5 58 VDC.
Operating current 44 A max. To allow the switch to be disabled by an emergency signal, 3 protection triggers are added to board. High VSWR protector to disconnect the amplifier from power supply if SWR rises higher than preset.
Level 2.0:1 (may be varied by user). Forward and reflected wave voltages from external directional. Coupler must be provided to determine the VSWR independent of power level. Output power excess protector to disconnect the amplifier if output power is more than preset level. Threshold tuning from 150 up to 1500W with one BTS660P and 150 up to 2500W with two BTS660P in. DC current excess protector to disconnect the amplifier if current consumption is more than preset level. Fine threshold tuning from 20 up to 40A with one BTS660P and 40 up to 80A with two BTS660P in.
Red LED shows which trigger is on. Power off and then on to reset device.
The onboard current sensor provides about +1VDC at 30 Amps for external current meter. Meter impedance must be at least 10 KOhm. BTS660P has a min switch-off time as low as 30 microseconds, so fast enough to protect the amplifier in case of emergency. Two BTS660P units may be installed on PCB to provide the current up to 2500 W amplifiers without additional heatsinks. The SWR sensor 2 pcs Cable - RG142 Toroid - Micrometalls FT82-43 Schottky diode 1N5711 1.8-54 MHz Power - 100W - 3 KW.
TX-RX unit is intended to provide the switching of amplifier between receive and transmit modes. Input signal is PTT line from transceiver. When PTT input goes low, the relays directs the signal from transceiver to PA input and from PA output to antenna. When PTT is high (RX mode) the antenna is connected directly to transceiver. The second tandem match is used as a high SWR detector with incorrect, spontaneous switching, failure of the LPF.
More than 50% of the transistor amplifier failure occurs due to incorrect or spontaneous switching of the LPF. When there is a spontaneous switching of the LPF, which depends on the interference to the band decoder, transceiver, computer, etc. Then the combustion of the transistor happens. The leads disappear right after that.
You can not find the problem. You need to have control over the state of the LPF. This protective device is designed to. LPF low pass filter 1600W CW 1.8-54 MHz for LDMOS MOSFET amplifier. Winding wires 1.8-3.5 MHz 1.2 mm, 7-14 MHz 1,6 mm, 21-28 MHz 1.6 mm 2 wires Size 120 x 120 x 80(height) mm Weight without packag 1 kg 1.8-54 MHz capacitors ATC Suppression the second and third harmonic more than 30 dB SWR.
The item "HF power amplifier 1200W LDMOS BLF188XR 1.8-54MHz with LPF and protector units" is in sale since Thursday, October 12, 2017. This item is in the category "Consumer Electronics\Radio Communication\Ham, Amateur Radio\Ham Radio Amplifiers". The seller is "r3kbo_2" and is located in Voronezh. This item can be shipped worldwide.
Frequency Band(s): HF
Brand: Unbranded/Generic
MPN: Does Not Apply
Max. Output Power: 1200W
Supported Modes: SSB
Country/Region of Manufacture: Russian Federation