KIT fo protect power amplifier 1200W LDMOS BLF188 VRF2933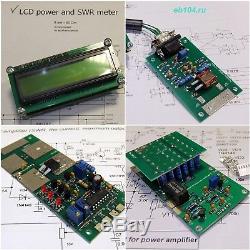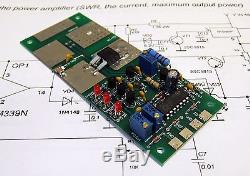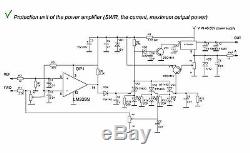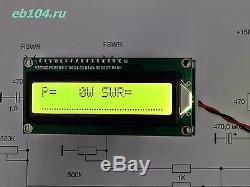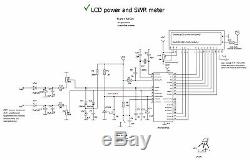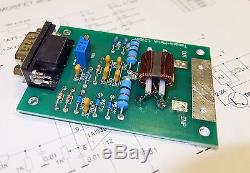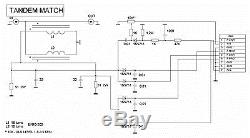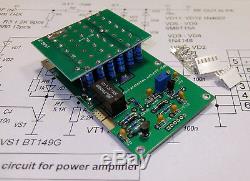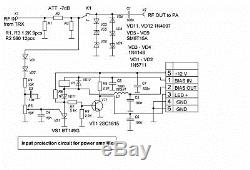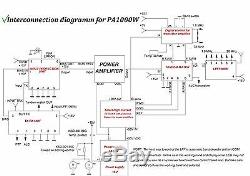 Kit to protect power amplifier includes. Smart High Current DC Switch with protection triggers for power amplifiers. The application of this DC switch is to gate the power supply current to solid-state amplifier and safely disconnect it in case of emergency. Diagnostic feedback with load current sense. Operating voltage 5 58 VDC.
To allow the switch to be disabled by an emergency signal, 3 protection triggers are added to board. Protector to disconnect the amplifier from power supply if SWR rises higher than preset. Level 2.0:1 (may be varied by user).
Forward and reflected wave voltages from external directional. Coupler must be provided to determine the. VSWR independent of power level.
Output power excess protector to disconnect the amplifier if output power is more than preset level. Threshold tuning from 150 up to 1500W with one BTS660P and 150 up to 2500W with two BTS660P in. DC current excess protector to disconnect the amplifier if current consumption is more than preset level. Fine threshold tuning from 20 up to 40A with one BTS660P and 40 up to 80A with two BTS660P in.
Red LED shows which trigger is on. Power off and then on to reset device. The onboard current sensor provides about +1VDC at 30 Amps for external current meter.
Meter impedance must be at least 10 KOhm. BTS660P has a min switch-off time as low as 30 microseconds, so fast enough to protect the amplifier in case of emergency. Two BTS660P units may be installed on PCB to provide the current up to 2500 W amplifiers without additional heatsinks. LDMOS and MOSFET amplifier input protection unit. This unit is intended to provide the anti-overshot protection to gates of transistors.
The device has three stages of protection: -peak power Zener voltage suppressors limiting the maximum voltage level on amplifier input, -high speed relay disconnecting the input from signal source when input power rise above the preset level, -switching off the biase voltage to provide additional protection. Voltage suppressor Zener diodes has the limiting level 21V (approximately 8W input). Thanks to input attenuator the VSWR rise just slightly when diodes are clamping the signal. If input power occasionally rise to very high level, the comparator-trigger circuit switches off the 5 ms release time relay, thus disconnecting the input out of power. This power level is trimpot tuneable.
This trigger controls the BIAS circuit also through transistor key. The input power source i. Transceiver stays connected to attenuator, so nothing happens to it output.
When system is triggered, indicating LED goes on. It is necessary to disconnect the supply voltage in order to set to initial state. This directional coupler is based on Tandem-Match device, a pair of toroidal transformers (on common binocular core) connected in tandem.
It has separate outputs of FWD and REF voltage for SWR meter and high SWR protection circuit. In addition it has the ALC terminal to control the output power of transceiver (in order to limit the max amplifiers output). PEP LCD power SWR meter 1200W.
The item "KIT fo protect power amplifier 1200W LDMOS BLF188 VRF2933" is in sale since Tuesday, September 27, 2016. This item is in the category "Consumer Electronics\Radio Communication\Ham, Amateur Radio\Ham Radio Amplifiers". The seller is "y_r3kbo" and is located in Voronezh, default. This item can be shipped worldwide.
Brand: Unbranded/Generic
MPN: Does Not Apply
Max. Output Power: 1200W
Country/Region of Manufacture: Russian Federation