KIT to protect power amplifier 1200W LDMOS BLF188XR MOSFET VRF2933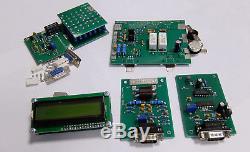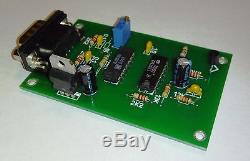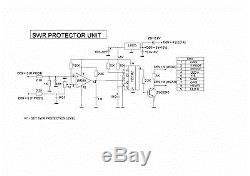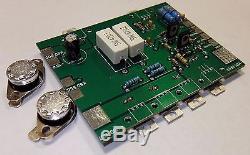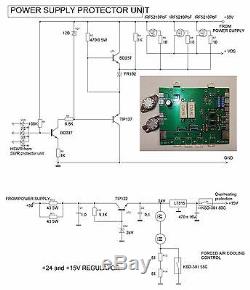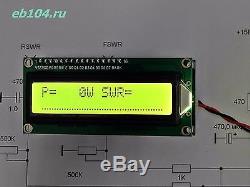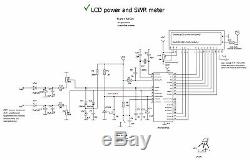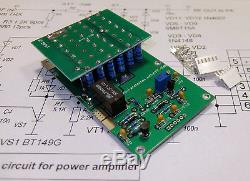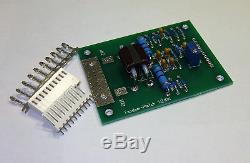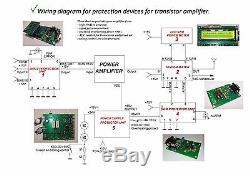 LDMOS and MOSFET amplifier input protection unit. This unit is intended to provide the anti-overshot protection to gates of transistors.
The device has three stages of protection: -peak power Zener voltage suppressors limiting the maximum voltage level on amplifier input, -high speed relay disconnecting the input from signal source when input power rise above the preset level, -switching off the biase voltage to provide additional protection. Voltage suppressor Zener diodes has the limiting level 21V (approximately 8W input).
Thanks to input attenuator the VSWR rise just slightly when diodes are clamping the signal. If input power occasionally rise to very high level, the comparator-trigger circuit switches off the 5 ms release time relay, thus disconnecting the input out of power. This power level is trimpot tuneable. This trigger controls the BIAS circuit also through transistor key. The input power source i.
Transceiver stays connected to attenuator, so nothing happens to it output. When system is triggered, indicating LED goes on. It is necessary to disconnect the supply voltage in order to set to initial state. Size 110 x 60 x 22 (h) mm. This device disconnects the PA output transistors from power supply voltage in case of failure, for example when SWR in antenna exceeds the level set. This unit works paired with high SWR protection unit. Three IRF5210 transistors are capable to switch the current up to 30 A.
No relays are involved in protection circuit, so it is very fast and safe. The +24V (for cooling fans) and +15V voltage regulators are added onboard. Size 100 x 80 x 15(h) mm. SWR PROTECTION UNIT This device analyzes the voltage from Tandem-Match FWD and REF output terminals and detects the SWR level. When this level exceeds the preset value (usually 3.0:1) the trigger flips and HSWR port signal becomes low, thus switching off the power supply.
To set the unit to initial condition the supply voltage must be switched OFF then ON again. SWR level may be changed by trimmer resistor onboard. Size 80 x 50 x 15(h) mm. PEP LCD power SWR meter 1200W.
Size 80 x 35 x 35(h) mm. SWR meter tandem match with ALC 1200W.
Size 80 x 55 x 15(h) mm. This unit is intended to provide the switching of amplifier between receive and transmit modes.
Input signal is PTT line from transceiver. When PTT input goes low, the relays directs the signal from transceiver to PA input and from PA output to antenna.
When PTT is high (RX mode) the antenna is connected directly to transceiver. It provides the ALC voltage to control the maximum output power of transceiver and additional +15V in TX mode for different user applications. One more coax connector may be installed on PCB to provide the attenuated (low level) RF voltage for automatic band decoder, if required.
Size 80 x 80 x 30(h) mm. The item "KIT to protect power amplifier 1200W LDMOS BLF188XR MOSFET VRF2933" is in sale since Wednesday, October 05, 2016. This item is in the category "Consumer Electronics\Radio Communication\Ham, Amateur Radio\Ham Radio Amplifiers". The seller is "r3kbo_4" and is located in Voronezh, default. This item can be shipped worldwide.ru
MPN: Does Not Apply
Max. Output Power: 1200W
Country/Region of Manufacture: Russian Federation