Senderöhre Power tube 4CX5000R / 8170W(4CX5000A) EEV, England, NOS, NIB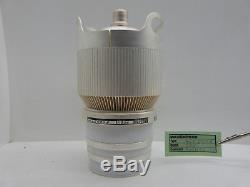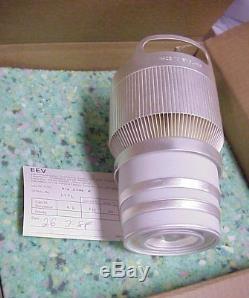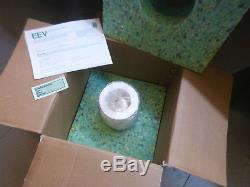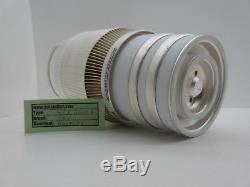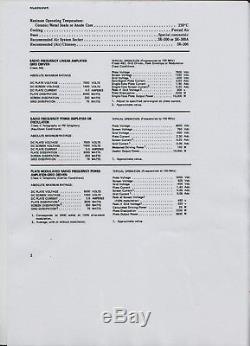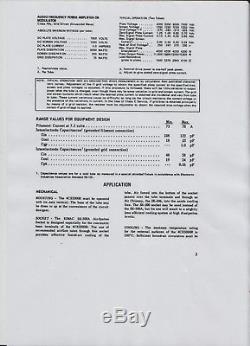 For English see below please. Pour la déscription Francaise lisez ci-dessous svp. Dies sind echte englische (EEV) 4CX5000R, die 4CX5000R ist die verstärkte Version der 4CX5000A und mit dieser voll austauschbar, siehe Datenblatt bei den Artikelbildern.
Nagelneue Neuware aus ehemaligem Militärbestand. Da es nicht zum Krieg kam, wurden diese irgendwann ausgemustert, entlassen und fanden ihren Weg zu uns. Vor Einsatz müssen sie gehärtet werden, Infos dazu liefern wir gerne mit. Es geht um vorsichtige Inbetriebnahme nach langer Lagerung, ein völlig normaler Effekt.
In unseren weiteren Angeboten finden Sie fabrikfrische Elkos aus deutscher Fertigung und viele weitere schöne Angebote für Röhrengeräte. Wir, die Frag Jan zuerst GmbH & Co KG, vertreiben ein großes Sortiment von Teilen für die Röhrentechnik seit vielen Jahren über unsere eigene Seite und auch einige ausgewählte Artikel über diese Plattform. Geld nur wenn Sie hier kaufen und nicht anderswo.... Aber mit den Pflichtangaben, s. Oder einer schnellen Suche bei Onkel Google finden Sie unseren Auftritt auch so - es lohnt sich.
Besuchen Sie gerne unsere Seite, sie hat ein bisschen was von einem altmodischem Laden, dafür können wir etliche Artikel rund um die Röhrentechnik liefern und Sie auch gerne ausführlich technisch beraten, wenn Sie sich über die benötigten Teile nicht sicher sind. Wir sind gerne für Sie da. ____________________ Wenn Sie mehrere Artikel aus mehreren, verschiedenen unserer Angebote kaufen möchten, dann kombinieren wir diese natürlich, damit Sie Versandkosten sparen. Fragen Sie einfach vor Zahlung den aktualisierten Gesamtbetrag manuell an. Die Versandkosten für den nationalen Versand je Kombi-Bestellung entsprechen den Einzelversandkosten desjenigen kombiversandfähigen, gekauften Artikels mit den höchsten Einzelversandkosten, dies sind EUR 7,- maximal. Ausgenommen vom Kombiversand sind Artikel mit Sonder- / Speditionsversand, diese Ausnahmen können Sie jedoch den Artikelbeschreibungen deutlich entnehmen. Dabei handelt es sich in der Regel um sperrige oder sehr schwere Güter, z. Wenn Sie Fragen hierzu haben, dann kontaktieren Sie uns bitte gerne :- __________________________ Those are real UK made (EEV) 4CX5000R, 8170W. This is the ruggedised version of the 4CX5000A/8170 and fully interchangeable. For datasheet see photos online. Former military stock, new, original boxes.
There was no war and they were surplussed one day and found their way to us. Condition is flawless, no problems at all, new, unused stock. Before use they must be preheated properly to ensure good vacuum. See our other auctions for current production German electrolytic caps and other interesting offers for use in tube amplifiers. Our company, Ask Jan First, distributes parts for tube electronics online since 1998 via our own Website catalogue and we started to do so via this platform for selected items.
But a quick question to Uncle google will help you.... Feel free to visit our site, we supply a huge lot of stuff all around tube technology, Service and support included - online since 1998. Ici nous offrons les tubes haute puissance 4CX5000R, version militaire du 4CX5000A. Fabrication Anglaise, EEV Ancien stock militaire, emballages militaires. Neuf, stock en parfait état.
Avant de les mettre sous tension il faut les pre-chauffer pour regagner le vide proprement. Nous, l´entreprise Frag Jan zuerst GmbH & Co KG, vendons les composants pour les appareils à tubes depuis plus de vingt ans. La gamme complète se trouve sur notre site web catalogue, aussi en langue Française. The item "Senderöhre Power tube 4CX5000R / 8170W(4CX5000A) EEV, England, NOS, NIB" is in sale since Monday, April 16, 2018.
This item is in the category "Handys & Kommunikation\Funktechnik\Amateurfunk\Amateurfunk-Verstärker". The seller is "fragjanzuerst-askjanfirst" and is located in Lehe.
This item can be shipped worldwide.
Marke: EEV
Modell: 4CX5000R /8170W
Herstellernummer: 4CX5000R / 8170W