2pcs. 60uF 6kV (4kV) High Voltage Pulse Power Capacitors. New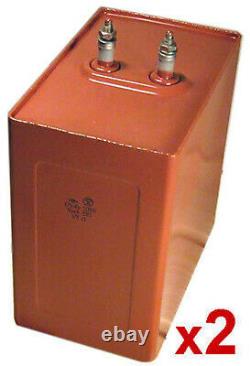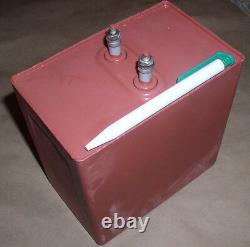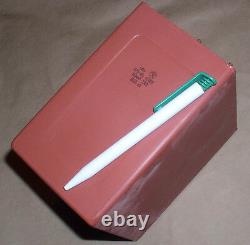 The powerful High-Voltage K75-40 Russians capacitors they are made. With use the modern material for internal insulator. High reliability and life expectancy. Withstands heavy duty shock and vibration. Non-polar dielectric - Dry, resin filled.
Here is hoarfrost on capacitor. It have brought from-40C (-40F) strong Russian frost. But this capacitor can work from -60C to +120C (-76F to 248F).
These power capacitors is really the best on the World! K75-40a series designed in the USSR for impulse discharge capacitors use in special radar stations more 3GWatt in pulse.
Now it is applied as the energy storage in pulsing lasers. These capacitors are not inductive rather the big inductance of oil caps. These capacitors have small absorption of electrons and have in each impulse discharge of 100% of capacity rather 30-40% in any oil and 10-15% the pulse discharge in electrolityc capacitors. These pulse capacitors have small interior resistance and therefore very big current of the discharge in an impulse. This current in the hundreds times more a current of the discharge old oil capacitors! This quality is perfect also for use in the High Voltage Power Supply. It reduces pulsations as 180-200uF old oil capacitor! It is enough for use with anode current up to 3,0 amperes in one phase (witch 4,5kV to 9kW) or up to 10,0 amperes in 3 phase (with 4,5 kV to 45 kW) anode Power Supply. The best choice for pulsing loadings (CW and SSB big power high-linear amplifiers). These capacitors have no throws voltage and supplies of any front impulse of a anode current. POLARITY: Any DC or AC.
NOMINAL WORKING Voltage: 4000 VDC. Peak Working Voltage: 6000 VDC. Discharge current amplitude: up to 2000 Ampers!
Vibration 1-2000Hz witch acceleration: up to 10 G. Nonsingle shocks witch acceleration: up to 40 G. Single shocks witch acceleration: up to 500 G! Temperature of work: -60 +120C (-76 to 248 F). Atmospheric pressure of work: 0,00012 to 294 000,0 Pa. Dimensions: 105x170x170 mm (4,1x6,7x6,7 in). Weight: 5.0 kg (11,0 lb).
Material of electrodes: Composite metals witch a special film coats. Material of insulator between electrodes: polyethylene-tereftalate. We was made HI-POT test for two 60uF/4kV capacitors. We charged the capacitors up to 4000V with 50uA current. No problems and we got 9.6uA and 10,2uA leak current at 4000V.
Next step was to charge it to 4500V, with 50uA current. No problems and we got 12.5uA and 13,5uA leak current at 4500V. Next step was to charge it to 5000V, with 50uA current, no problems. And we got 20.5uA and 21,5uA leak current at 5000V.
Absolutely safe for 5000VDc constantly without any limited! Discharge Energy: 750J (60uF at 5000v). Take the HUGE Power from the compact capacitor! 60uF 6kV (4kV) High Voltage Pulse Power Capacitors. New" is in sale since Friday, February 28, 2020.
This item is in the category "Business & Industrial\Electrical Equipment & Supplies\Electronic Components & Semiconductors\Capacitors". The seller is "qro-stuff" and is located in Rus. This item can be shipped worldwide.
Country/Region of Manufacture: Russian Federation
MPN: Does Not Apply
Capacitor Construction: Metallized POLYETHYLENE-TEREFTALAT Film
Model: K75-40a
Nominal Capacitance: 60uF
Peak Working Voltage: 6kV (6000V)
Capacitor Type: Fixed
Brand: Unbranded/Generic
Working Voltage: 4kV