ICOM IC-PW1 Linear Amplifier 1KW, 1000W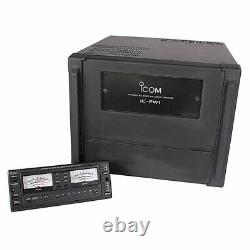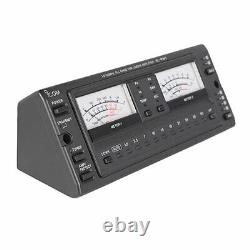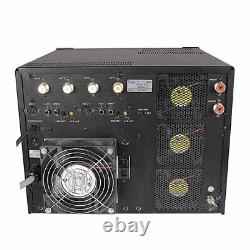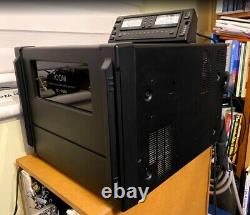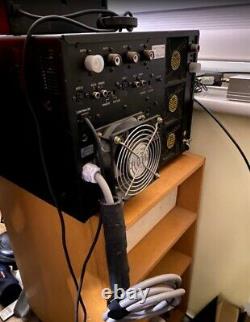 Youtube video of the PW1 linear being tested. ICOM PW1 Kilowatt-class linear amplifier. No need to mess about with plate and load settings like valve-based linears.
Rated for 1000W output at 50ohms. 100% duty cycle (even during RTTY or SSTV).
Automatic AC input voltage selector. Dual CPUs for system operation, monitoring and control. Bound copy of the Icom PW! Manual with extra material I've found useful. Extra ferrite rings installed for RFI prevention.
Bank transfer only for this sale please. A few marks on the case. I keep mine in a 19 rack and I don't see them. It is rated for and will work at 1KW, 100% duty cycle.
Antenna tuning unit (ATU) does not work. The backlight bulb for meter 2 has blown, a replacement is included.
I bought it like this and have used it with resonant antennas with great success. The automatic band select works well with Icom transceivers. I've used it very successfully with an Icom IC-7300. You will need a C-IV cable. I've also used it with an Elecraft KX3 and it's capable of driving the Icom PW1 to about 650W. It works very well, I've used resonant antennas, multi band verticals very effectively. I've taken a video of it in operation into a dummy load. 35W SSB PEP gives about 1000W into a dummy load... I set my radio to 12W for a nice 400W ish.
The actual figure is band dependent. The reviews say this amplifier can output 1.4KW with 35W in, but for longevity (and your license) I recommend that you stick with 400-500W (the extra to account for feeder loss). This linear loafs along at UK's power limit.
10-15W is perfect for an Elecraft KX2, KX3 etc. This amplifier is for experienced operators only. It will stress your feeder, chokes, baluns and antennas if they are not up to scratch. You can hurt yourself or others if you don't know what you're doing. ATU does not work automatically or manually, it is quite a common problem, google will expand on this for you.
I suspect the relay driver or ATU logic is faulty. This is the procedure I use with non-Icom transceivers. Set linear to whatever band you want to operate on. Set the linear to bypass mode (AMP/Protect led not lit).
Check you have the correct input and antenna output. Set exciter power output to 8W (CW, RTTY or FM), transmit carrier to check reflected power (VSWR).
Assuming VSWR ok, set output to 10-15W for UK legal limit (band dependent). Maximum recommended power between 35W input for just over 1KW, band dependent. This is the procedure I use with Icom transceivers. Set the exciter to whatever band you want to operate on, linear will track your radio.
Step 2 is optional, but good practice. Ensure you set the ALC levels - this is mandatory.
ALC pot full to the left (counter-clockwise), set your exciter to 10W and RTTY. Connect ALC lead (DIN cable or phono). Connect your linear to a suitable dummy load. Check that you are using the correct input and antenna output.
Set display to read Po on meter 1 and ALC on meter 2. Check Po on meter 1, increase exciter Po to 20W, 40W, 100W. Check each time that you're not over 1KW (just in case ALC isn't working). Once you see 100W is way less than 1KW, which means ALC is working. You can set the ALC by turning it cock-wise slowly till the meter 2 is pointing north.
The cost of the Icom PW1. Note this item is advertised elsewhere, so may be withdrawn without notice.
Collect from KT17 3LB - full social distancing protocols to be observed please. NI, not sure how the new rules work, but I'll work with you. Unit will be security marked. Please ask questions in advance. The item "ICOM IC-PW1 Linear Amplifier 1KW, 1000W" is in sale since Monday, March 8, 2021.
This item is in the category "Mobile Phones & Communication\Radio Communication Equipment\Ham/Amateur Radio\Ham Radio Amplifiers". The seller is "notesec" and is located in Epsom.
This item can be shipped to United Kingdom.
Model: PW1
Colour: Black
Unit Quantity: 1
Band: SSB
Type: Linear Amplifier
Supported Modes: AM
Number of Outputs: 4
Number of Inputs: 2
Power: 1000 W
Brand: Icom