MF/HF DSC Controller-Receiver Skanti Typ DSC 9000 Hagenuk DCU DU Seefunk Funk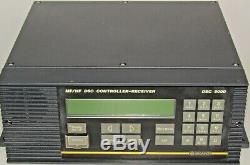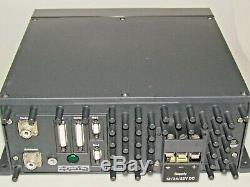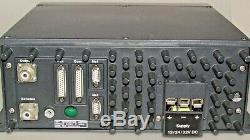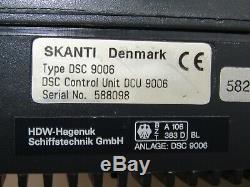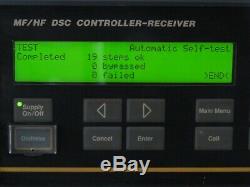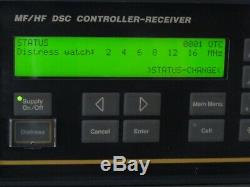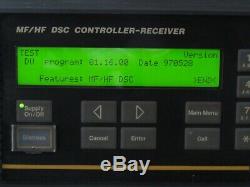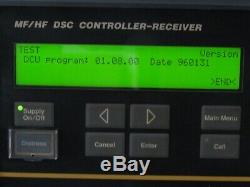 Skanti DSC9000 MF / HF-DSC Controller Empfänger. Der Selbsttest läuft fehlerfrei , Display und Tasten funktionieren alle. Ansonsten kann ich die Funktion nicht weiter prüfen, Verkauf daher weitgehend als ungeprüft ohne Garantie auf volle Funktion.
Keine Funktionsgarantie, lediglich der Selbsttest ist geprüft und fehlerfrei gelaufen. Der DSC 9000 ist ein MF / HF-DSC-Controller-Empfänger, der die GMDSS-Anforderungen von SOLAS 88, Kapitel IV erfüllt, wenn er an einen SKANTI TRP 7000 oder TRP 8000 oder einen anderen geeigneten HF-Transceiver angeschlossen wird. Es entspricht den Empfehlungen und Spezifikationen von IMO, ITU und CEPT für DSC-Geräte der Klasse A im mobilen MF / HF-Seeverkehrsdienst.
Es ist ein wesentliches Element des globalen Seenot- und Sicherheitssystems (GMDSS), wird jedoch auch für die öffentliche Korrespondenz mit Landnetzen über Küstenstationen verwendet, die diesen Dienst anbieten. Anrufe können an einzelne Stationen, an Gruppen von Stationen oder an alle Schiffe gerichtet werden und Informationen über die Kategorie des Anrufs (Not, Dringlichkeit, Sicherheit, Schiffsgeschäft oder Routine), die vorgeschlagene Häufigkeit für die nachfolgende Kommunikation usw. Enthalten Die Notlage, die Art der Not usw. Optische und akustische Signale weisen den Empfänger auf eingehende Anrufe hin. Wenn der Kontakt hergestellt wurde, werden die Frequenzen auf die angegebenen Arbeitsfrequenzen geändert und die Kommunikation wird wie gewohnt ausgeführt.
Der DSC 9000 MF / HF Controller-Receiver ist ein kompaktes Gerät in Modulbauweise mit modernster SMD-Technologie. Es besteht aus: DCU 9000, DSC-Steuereinheit, kompakt und benutzerfreundlich, mit großem LCD-Display mit Hintergrundbeleuchtung und 160 Zeichen und 4 Zeilen.
Spritzwassergeschützte Tastatur mit Hintergrundbeleuchtung und taktiler und hörbarer Rückmeldung. Bis zu 5 DCU 9000-Geräte können an den DU 9000 angeschlossen werden. Die Geräte werden mit einem einzigen Kabel in Reihe geschaltet. DU 9000 DSC-Einheit, bestehend aus Einkanal- oder Scanempfänger, Netzteilmodul und PCP-Modul (Programmable Communication Processor) mit DSC-Modulator, zwei DSC-Demodulatoren und Prozessor zur Steuerung der DSC-Einheit und der Kommunikation mit der DCU 9000 HF-Transceiver und andere angeschlossene Geräte. Das 9000 und das Gerät können vollständig entfernt von der DCU an jedem geeigneten Ort installiert werden. Eine zusätzliche DU 9006 DSC-Einheit, die als DSC-Uhrenempfänger konfiguriert ist, kann dort angeschlossen werden, wo ein zweiter kontinuierlicher Uhrenempfänger benötigt wird. Der DSC 9000 MF / HF-Controller-Empfänger verfügt über die vollständige Steuerung des SKANTI TRP 7000 oder TRP 8000 HF-Transceivers.
Diese Funktion ermöglicht die automatische Übertragung der Empfänger- und Senderfrequenzen vom DSC 9000 zum HF-Transceiver. Wenn kein zusätzlicher DU 9006-Uhrenempfänger angeschlossen ist, kann der Empfänger im SKANTI TRP 7000 oder TRP 8000 zum Scannen von DSC-Rufkanälen verwendet werden, während der Empfänger im DSC 9000 gleichzeitig die Not- und Sicherheitsüberwachung aufrechterhält.
Für die automatische Positionsaktualisierung ist eine Schnittstelle (NMEA) zu Navigationsgeräten enthalten. Eine externe Notruftaste kann zur Fernaktivierung von Notrufen angeschlossen werden, und externe Alarme können zur Fernanzeige empfangener Anrufe angeschlossen werden. Eine serielle Schnittstelle zum Anschluss eines Druckers dient zum auswählbaren Ausdruck aller Anrufe, Not- und Sicherheitsanrufe, gesendeten und empfangenen Anrufe oder nur empfangenen Anrufe sowie zum Ausdrucken der Kurzwahlliste, DSC-Frequenzliste , MMSI-Liste, Telefonliste und Konfigurationseinstellungen.
Empfangene Anrufe werden bis zum Auslesen gespeichert. Bis zu 20 verschiedene Notrufe und 20 weitere Anrufe können im Geschäft enthalten sein. Die DSC 9000 merkt sich den zuletzt gesendeten Anruf in jedem Format und in jeder Kategorie zur einfachen Wiederholung. Darüber hinaus ist ein Kurzwahlregister enthalten, das bis zu 99 vom Benutzer vorprogrammierte Anrufe zum einfachen Abrufen enthalten kann.
Beim Senden von Bestätigungen oder Anrufen als Antwort auf einen empfangenen Anruf werden automatisch relevante Informationen aus dem empfangenen Anruf übertragen, um eine schnelle und einfache Antwort zu ermöglichen. Die DSC 9000 verfügt über Direktwahleinrichtungen gemäß den in Empfehlung ITU-R M. 1080 für Schiffsstationen festgelegten Betriebsverfahren: INTERNATIONALES MEERES-MF / HF-FUNK-TELEFONSYSTEM MIT AUTOMATISCHEN EINRICHTUNGEN AUF DER GRUNDLAGE DES DSC-SIGNALFORMATS. Die DSC 9000 verfügt über integrierte Testeinrichtungen für einfache Routinetests und als Hilfe bei der Fehlersuche und Wartung. Skanti DSC9000 MF / HF-DSC Controller Receiver. The self-test runs flawlessly, the display and buttons all work. No functional guarantee, only the self-test has been tested and ran flawlessly. The DSC 9000 is an MF/HF DSC Controller-Receiver which complies with the GMDSS requirements specified in SOLAS 88, chapter IV, when it is connected to a SKANTI TRP 7000 or TRP 8000 or another suitable HF transceiver.
It is designed in accordance with the recommendations and specifications of the IMO, ITU and CEPT for Class-A DSC equipment in the maritime mobile MF/HF service. It is an essential element in the Global Maritime Distress and Safety System (GMDSS) but is also used for public correspondence with land networks through coast stations providing this service. In distress calls the distress position, nature of distress, etc. Visual and audible signals advise the receiving party when calls are received.
When contact has been established, frequencies are changed to the indicated working frequencies and the communication is carried out as usual. DSC 9000 MF/HF Controller-Receiver is a compact equipment in modular design featuring the latest SMD technology. It consists of: DCU 9000, DSC Control Unit, compact and easy to use, with large 160-character backlit LCD display with 4 lines. Splash-proof, backlit keyboard with tactile and audible feed-back.
Up to 5 DCU 9000 sets may be connected to the DU 9000. The units are chain connected with a single cable. DU 9000 DSC Unit, containing single channel or scanning receiver, power supply module, and the PCP module (Programmable Communication Processor) with DSC modulator, two DSC demodulators, and processor for control of the DSC unit and the communication with the DCU 9000, the HF transceiver and other connected equipment. The 9000 and m unit ois fully remote be installed in a teconintrsolledfrom the DCU any convenient, suitable place.
An additional DU 9006 DSC Unit configured as a DSC watch receiver may be connected where a second continuous watch receiver is needed. The DSC 9000 MF/HF Controller-Receiver has complete control of the SKANTI TRP 7000 or TRP 8000 HF transceiver. This feature gives automatic transfer of the receiver and transmitter frequencies from the DSC 9000 to the HF transceiver.
Furthermore, if an additional DU 9006 watch receiver is not connected, the receiver in the SKANTI TRP 7000 or TRP 8000 may be utilized for scanning of DSC calling channels while the receiver in the DSC 9000 simultaneously maintains distress and safety watch. Interface (NMEA) to navigational equipment is included for automatic position updating. An external distress button may be connected for remote activation of distress calls, and external alarms may be connected for remote indication of received calls. A serial interface for connection of a printer is included for selectable print-out of all calls, distress and safety calls only, transmitted and received calls, or received calls only as well as the possibility of printing out Short-dial list, DSC frequency list, MMSI list, Telephone list and configuration settings. Received calls are stored until read-out. Up to 20 different distress calls and 20 other calls can be contained in the store. The DSC 9000 remembers the last transmitted call in each format and category for easy repetition.
Furthermore a short-dial register is included which may contain up to 99 user pre-programmed calls for easy recall. When sending acknowledgements or calls in response to a received call, relevant information is automatically transferred from the received call for fast and easy response. 1080: INTERNATIONAL MARITIME MF/HF RADIOTELEPHONE SYSTEM WITH AUTOMATIC FACILITIES BASED ON DSC SIGNALLING FORMAT. The DSC 9000 has built-in test facilities for easy routine testing and as an aid for trouble shooting and service.
The item "MF/HF DSC Controller-Receiver Skanti Typ DSC 9000 Hagenuk DCU DU Seefunk Funk" is in sale since Wednesday, October 23, 2019. This item is in the category "Sport\Bootsport\Bootsteile & Zubehör\Zubehör\Navigation & Funk". The seller is "syretronik" and is located in Duisburg.
This item can be shipped worldwide.
Marke: Skanti
Modifizierter Artikel: Nein
Herstellernummer: DSC 9000
Angebotspaket: Nein