Microset PR430A 70cm Mast Head Pre Amp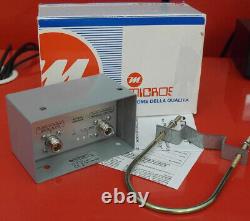 Microset PR430A 70cm Mast Head Pre Amp. Very low noise and low intermodulation antenna preamplifiers, mast installation, high performance and good operating also in congested band and with strong radio fields generated by broadcast transmitters. Valuable and reliable GaAs FET technology; their shielded waterproof strong metallic box assures protection against storm lightning and allows very long efficiency also in seaside and pollution environment application. Power + 12VDC by separated wire, automatic antenna switch, P.
External RX/TX switch control - by transceiver facility, S. Power the preamplifier is by-passed.