Power Supply Switching 30AMP 13.8V DC SADELTA SPS-2530 D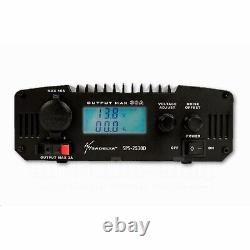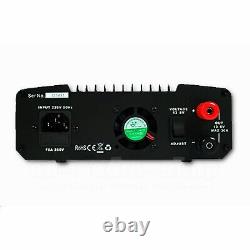 Switching power supply with large, blue LCD display for simultaneous display of voltage and current. Main connection (screw terminals) on the back max. Connection for small consumers (3A) and cigar lighter socket (10A) on the front. This power supply is HF-proof and ensures interference-free radio operation. If, despite this, a background noise should be audible, this can be eliminated with the noise control.
Operating voltage - 220-230V AC / 50-60 Hz. Continuous load - 25 amps. Peak load - 30 amps. Output voltage - 9-15V DC infinitely adjustable or 13.8 V DC fixed voltage.
1x 12V vehicle power socket max. 1x DC terminal strip max.