RM BLA600 Wideband HF 1.8-55MHz Linear Amplifier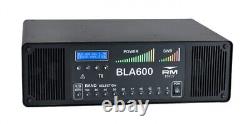 The BLA 600 is a wideband compact linear amplifier for the HF bands and 6m, from 1.8 to 54 MHz. Fast PIN Diode RX-TX TX-RX switching enables QSK operation.
2x16 LCD Display for Amplifier Status. Seperate LED displays for power and antenna VSWR. Input drive from 1W to maximum of 40W (TBC). 3 user configurable Antenna Output connectors. Dual large diameter MCU controlled. Multispeed cooling fans for efficient cooling. Linear 1200W Quiet PSU 115 - 230 - 240 Vac.