RM KL-503 Verstärker, Brenner Frequenzbereich 20 30 MHz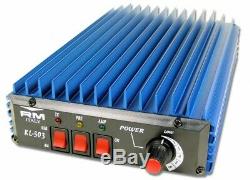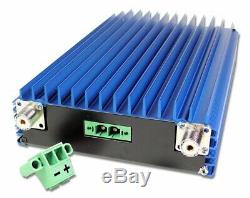 KL-503 - Leistungsverstärker für 10m-Amateurfunk max. Amateurfunk-Sendeverstärker zum Anschluß an 10m-Funkgeräte mit geringer Ausgangsleistung. Ausgangsleistung in sechs Stufen schaltbar Eingebauter Empfangsverstärker 26dB Spannungsversorgung 12 Volt DC Frequenzbereich 20 bis 30 MHz - Verwendung unterhalb 20 MHz laut Hersteller nicht empfehlenswert. Abmessungen 17029562mm, Gewicht 1600 Gramm Der KL-503 besitzt übrigens kein fest angeschlossenes Kabelstück mehr, sondern eine abnehmbare Doppel-Schraubklemme, was deutlich besser und einfacher verwendbar ist. Somit ist kein Anschlusskabel vorhanden und muß extra dazu gekauft werden, oft hat man aber noch passendes Material liegen. Funkgeräte darf dieser Leistungsverstärker NICHT verwendet werden! Bei Nichtbeachtung können empfindliche Bußgelder die Folge sein. Wir empfehlen einen Oberwellenfilter in der Antennenleitung zu verwenden (in unserem Ebayshop erhältlich von der Marke Zetagi).
Sollte der Verstärker durch ein schlechtes SWR beschädigt werden erlischt die Garantie und Gewährleistung. Überprüfen Sie das Stehwellenverhältniss Ihrer Antenne vor Betrieb des Verstärkers und auch später in regelmäßigen Abständen.
Es sollten keine Antennentuner verwendet werden da hierdurch kurzzeitig schlechte SWR-Werte entstehen können. Das Antennenkabel sowie die angeschlossenen Stecker müssen frei von Beschädigungen sein und für größere Leistungen geeignet. (50 Ohm Koaxkabel mit guter Abschirmung verwenden). Der Verstärker darf nicht mit zu hoher Sendeleistung angesteuert werden. Sollte der Verstärker durch zu hohe Ansteuerleistung beschädigt werden erlischt die Garantie und Gewährleistung.
Durchgänge sollten nicht länger als 1 Minute dauern. Der Verstärker ist nicht zum Dauersenden geeignet. Nach 1 Minute abkühlen lassen. SAFETY INSTRUCTION FOR INTERNATIONAL CUSTOMERS. SWR of your Antenna must be perfect.
Antennacable and connector must be in very good condition. Only use 50 Ohm cable. Don't use Antennatuners because these devices can cause a bad SWR for a few seconds.
Don't use too much Input Power. Use a TVI-Filter to avoid harmonics. If there is a duty, it is thecustomer's responsibility to pay.
The item "RM KL-503 Verstärker, Brenner Frequenzbereich 20 30 MHz" is in sale since Thursday, April 2, 2020. This item is in the category "Handys & Kommunikation\Funktechnik\Amateurfunk\Amateurfunk-Verstärker". The seller is "maas-elektronik" and is located in Elsdorf. This item can be shipped to European Union member countries.
Marke: RM ITALY
Modell: KL-503
Anzahl der Ausgänge: 1
Unterstützte Modulation: AM
Produktart: Leistungsverstärker
Anzahl der Eingänge: 1