UNBUILT vintage vacuum tube Knight RADIO BROADCASTER & AMPLIFIER repro set kit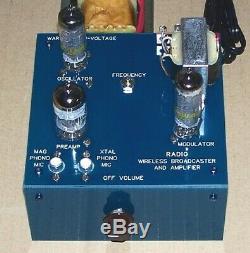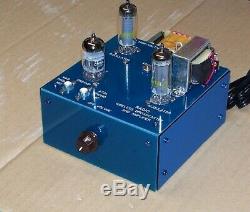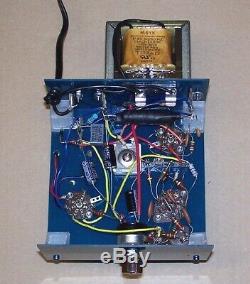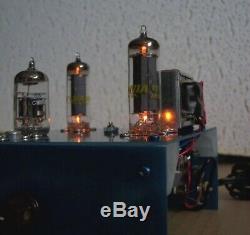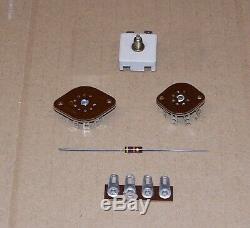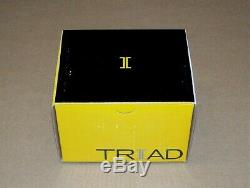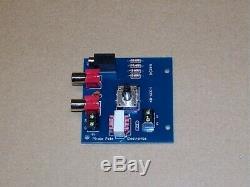 NOTE : We sell two versions of this kit, a point-point wired version like the original in this listing, and our NEW, easier assembly, PC board version. See our other listings for that version. Kit comes with two 50C5 tubes, but not 12AX7 tube. Kit includes a BONUS audio input board! The Knight Broadcaster was meant to be used with low level microphone inputs. High level signals will distort the output, unless the input is attenuated. To ease this problem, as well as improve connectivity to audio sources, we have designed an accessory input control board.
The kit includes a small 2-3/8 x 2-3/8 PC board (same blue color), to allow easy connection of bare wire, RCA, or 3.5mm jack inputs! The board also features an isolation transformer, if you experience hum problems. See photos in listing below. This is a reproduction kit of the Knight Wireless Broadcaster - Amplifier. High level inputs can be from a MP3 player, iPod, iPhone, cassette player, etc..
The kit also functions as a PA (Public Address) style audio amplifier, and has connections you can hook up a loudspeaker too. This is a custom produced kit, and has no economies of scale, and is therefore more costly than the PC board version. The kit is electrical equivalent to the original, with several minor changes. Our design includes a brand new, high quality, Triad isolation transformer.
Appropriate changes has been made for mounting the transformer on the back, and for internal wiring. We have replaced the selenium rectifier with a modern diode. The kit comes with a prewound oscillator coil. As shown in the internal wiring photo, modern filter capacitors, smaller rectifier diode and oscillator coil, give easier and increased assembly and working room! To keeps costs as low as possible, the kit does NOT come with the 12AX7 tube.
The 12AX7 is readily available from many sources. We have gone to great effort, time and expense to acquire vintage style components , like those used in the original design. As shown in the parts photos, the kit currently uses vintage parts, including carbon composition resistors (may be vintage or modern manufacture), phenolic wafer tube sockets, vintage terminal strips, and a vintage compression tuner capacitor. As time progresses on, these parts become harder and harder to find, and at some point may be replaced with modern equivalents.
Until otherwise noted, the kit will come with the vintage parts just mentioned. The prototype in the photos used a couple carbon film resistors, but kits will come with ALL carbon composition resistors. The kit now uses black oxide screws to assemble the panels, instead of the costly blue screws shown in the photos. NOTE: This kit requires good electrical and mechanical building skills, and is recommended for advanced builders.
Some mechanical modifications are required, such as cutting the metal potentiometer shaft to the correct length, enlarging the tube sockets holes, etc.. The kit is constructed with individual fiberglass panels for the top, front, back and sides. These are fiberglass printed circuit boards, with high durability lettering. The bottom panel is an acrylic or similar plastic material, it's color may vary or be clear. The parts are connected by plastic brackets and screws, as you can see in the internal view photo.
The original manual is supplied as a PDF file on a CD-R. An addendum assembly file is supplied as a RTF file on the CD-R. Note we do not supply copies of manuals. The kit is only for sale people with experience building and operated line powered devices. The kit must be operated under FCC Part 15 regulations at all times. This unit must only be operated with the supplied line isolation transformer. Not for sale to, or use by minors.
It is assumed that the unit(s) will be installed and operated by qualified personnel. See our other listings for more Radio, Electronic and other RARE and UNIQUE items. NOTE : The flat and reflective surfaces cause some reflections in the photos. Vertical'lines' on the front panel are reflections from the corrugated cardboard the unit was photographed on. With fiberglass panels and stainless steel hardware, your kit will look good for many years!
Kit now features black oxide panel connecting screws, not blue screws shown in photos. Modern filter capacitors, rectifier diode and smaller coil, give increased working room. Kit now uses PC mount RCA jacks, see text. Brand new in box isolation transformer. CD-R with original manual, and addendum instruction file. Accessory input control board now included with kit. Board provides RCA, 3.5mm jack, and screw terminal input connections, level control, and isolation transformer. Board can easily mount to panels if desired, see above and below photos.
See our other listings, for the PC board version of this kit. See our other listings, for our much lower cost, miniature tube transmitter. For people interested in Heathkit projects, see our reproduction CR-1 crystal radio kits (standard and low cost versions), and our EXCLUSIVE PC board kits in the photo below. See our other listings for our EXCLUSIVE PC board kits.
Powered by SixBit's eCommerce Solution. The item "UNBUILT vintage vacuum tube Knight RADIO BROADCASTER & AMPLIFIER repro set kit" is in sale since Friday, September 4, 2020. This item is in the category "Collectibles\Radio, Phonograph, TV, Phone\Radios\Tube Radios\1960-Now".
The seller is "ppelectronics" and is located in Middlesex, New Jersey. This item can be shipped worldwide.
Country/Region of Manufacture: United States