Vintage Eico HF-32 Mono Tube Amplifier Serviced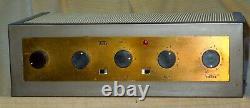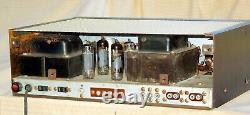 VINTAGE EICO HF-32 MONO TUBE AMPLIFIER. Serviced - All Functions Working. Chassis Has Some Signs of Age - See Pictures. Carefully remove all tubes and treat sockets with DeOxit D-100 contact preservative. Clean all switches and controls. Check main power supply electrolytic capacitors and replace as needed. Full use and listening test. This is quite an amplifier. It uses 4-EL34 tubes in the output stage for a true 30 watts RMS power.
And massive power and output transformers. It's working and sounding great.
Inaudible background hum, lots of clear tube tone. Bass and treble tone curves that really work. This could be the heart of an excellent mono sound system, or pair it with another HF-32 for superb stereo reproduction. Or use it as a killer guitar or harp amplifier. A really nice vintage amplifier serviced and working great.