Geemarc CL7400 Opti Amplified Wireless and Foldable TV Headset 0, Silver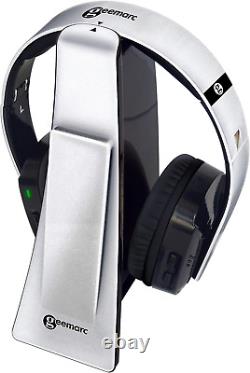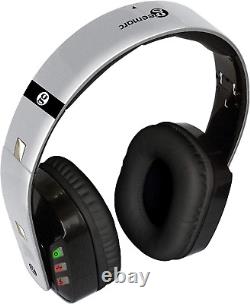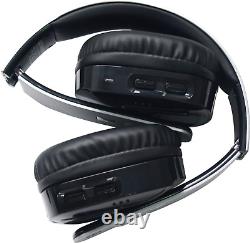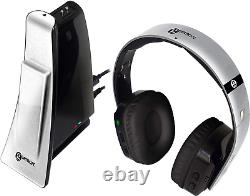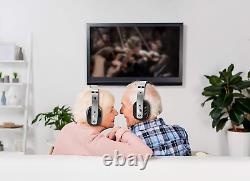 Geemarc CL7400 Opti - Amplified Wireless and Foldable TV Headset 0, Silver. Product Dimensions: 26 x 20 x 13 cm; 680 Grams. Batteries: 1 Lithium Polymer batteries required. Compatible Devices: Mono/Stereo connectors, TV's, Optical connectors.
Hardware Platform: Laptop, PC, Smartphone. Batteries : 1 Lithium Polymer batteries required.
Product Dimensions : 26 x 20 x 13 cm; 680 Grams. Model name: Geemarc CL7400 OPTI -Foldable Wireless Headset for TV, PC's, Mp3 with optical input- UK Version. HIGHLY AMPLIFIED - This product is designed for hearing impaired people and has an adjustable volume of up to 125dB SPL, which makes it suitable for people with hearing loss ranging anywhere from low to severe. FREQUENCY RESPONSE - 40 to 20 000Hz.
LIGHTWEIGHT - The overhead headset only weighs 260 grams. SETTINGS ACCESSIBLE FROM THE HEADSET - The volume, left/right balance, and tone controls are all directly accessible from the headset so that you can easily make the necessary adjustments to always get a loud and clear sound. CONNECTION TO SMARTHPONES - These headphones for seniors have a 3.5 audio input, which means they can be connected directly to a smartphone and used without the need of having the main base around. This makes the CL7400 Opti a headset you can easily carry with you and use while on your daily commute.
You should however note that when the headset is connected directly to a sound source such as a smartphone, it cannot amplify sounds, this functionality only works when the headset is used with its base. 8 HOURS OF CONTINUOUS USE - You can charge your wireless TV headset by replacing it on its base, using an external battery, or even connecting it directly to your laptop! It takes 6 hours for the batteries to get fully charged.
COMPATIBILITY - The CL7400 Opti main base can be plugged into your TV's analogue, optical, or RCA output using the leads provided with the product. It can also work with other audio devices such as radios and DPD players, as long as those devices have a 3.5mm audio output. TURNS OFF AUTOMATICALLY WHEN NOT IN USE - Your extra loud headset will not run out of battery if you forget to replace it on its base or connect it to a power source after having used it. It will turn itself off automatically four minutes after it stops receiving a signal from an audio device.